A.D.O.P.T. Pet Shelter serves as a safe place for homeless animals while on their journey to their forever home.  It serves as a gathering place for a strong community that truly believes every animal deserves a home.  Our community comes together to create fundamental change in the lives of animals by selflessly sharing their love, care, and support.
Will you join our community and be a catalyst for change?
Will you take a stand for animals in need?
Will you give for those that have no voice?
Join us this Giving Tuesday to make a lasting impact in your community.
What is Giving Tuesday?  Giving Tuesday, December 1st, 2020, is an international day of giving that encourages individuals to support their favorite causes.  This can be done in many ways through donating, educating others, spreading the word through social media, and many other ways to get the word out about great causes.  Keep reading to see how you can get involved in helping A.D.O.P.T. Pet Shelter.
How does your involvement help A.D.O.P.T.?  A.D.O.P.T. Pet Shelter runs programs that help homeless animals, animals from other rescues, and owned animals.  Read more about the programs your involvement can support.
Rescue and adoption is usually the first program that most people think of when considering the work of A.D.O.P.T. We rescue and adopt out over 700 animals per year.  We work closely with our shelter partners to pull animals from their shelters to make more room at their facilities.  Our adoption process focuses on matchmaking between adoptive families and our animals to ensure that both the family and animal are the right fit.  We believe every animal deserves a permanent, loving home.
Spay/neuter is an extremely important program run through A.D.O.P.T.'s medical clinic. Not only do we perform surgeries for the animals in our care, but we provide surgeries for animals from other rescues and for owned animals of the general public.  Surgeries are provided at a low-cost to make it affordable for everyone to make sure their animal is spayed/neutered.  Spay/neuter is crucial to lower the number of animals that end up in shelters every year.
Volunteers are at the heart of our operations and we are only able to do the work we do with their help.  From caring for the animals to cleaning to working the front desk to serving as adoption counselors, volunteers are involved in every aspect of our work.  We are forever grateful for the dedication of our volunteers that have created an extraordinary community that surrounds A.D.O.P.T. with the love and care needed to continue our work.  Due to COVID-19, we are unfortunately currently not accepting applications for new volunteers.  We truly appreciate your interest and please check back in 2021 for more information. 
Blessed Bonds is an emergency foster program run by A.D.O.P.T.  Through the program, individuals that are facing temporary crisis, such as severe illness, homelessness, and domestic violence, are able to place their animal temporarily into our care.  While with us, A.D.O.P.T. assumes all responsibility for everyday and medical care for the animal.  This is all at no cost to the individual needing assistance.  Once the individual is again able to care for their animal they are reunited.  We believe that animals are members of a family and we strive to keep families intact through the Blessed Bonds program.
The Wilbur Fund was established in 2008 after the passing of Wilbur, a basset hound mix, who had developed a tumor in his sinus cavity and brain.  Wilbur was in the loving care of his A.D.O.P.T. family until the very end.  In his honor, A.D.O.P.T. created the Wilbur Fund to be able to provide care for animals with extraordinary medical needs.  Because of the Wilbur Fund, many animals have received critical surgeries and other care to improve the quality of their lives.
From making a donation to sharing our social media posts, every action taken by our supporters helps keeps these programs going strong.  Will you take a moment to get involved and help A.D.O.P.T. Pet Shelter's programs?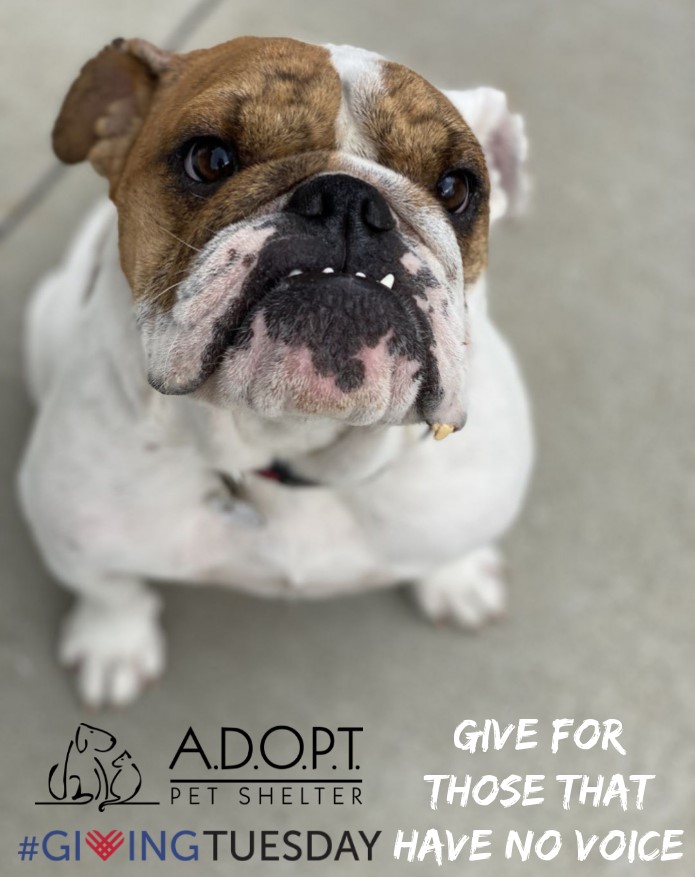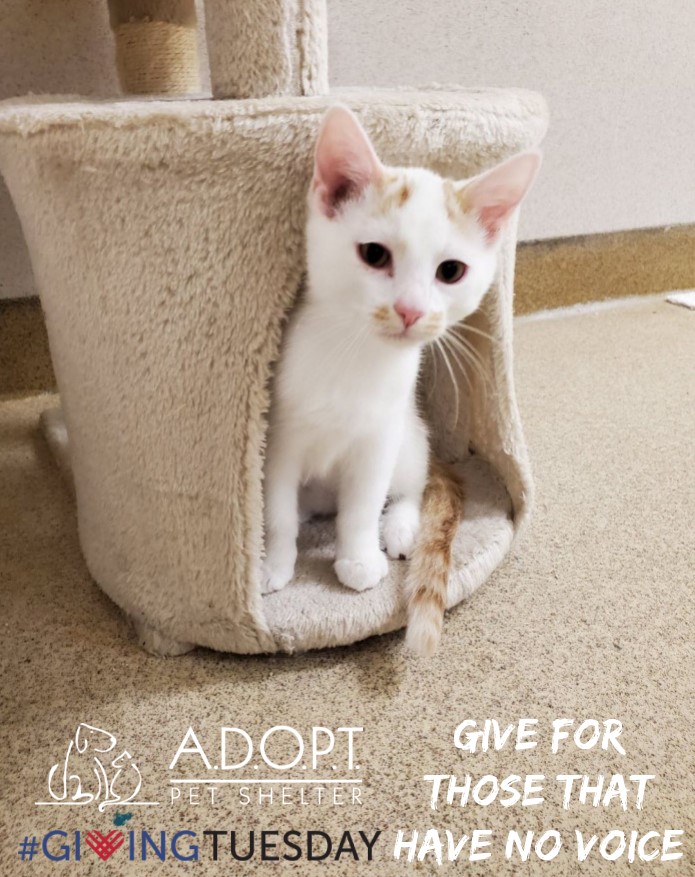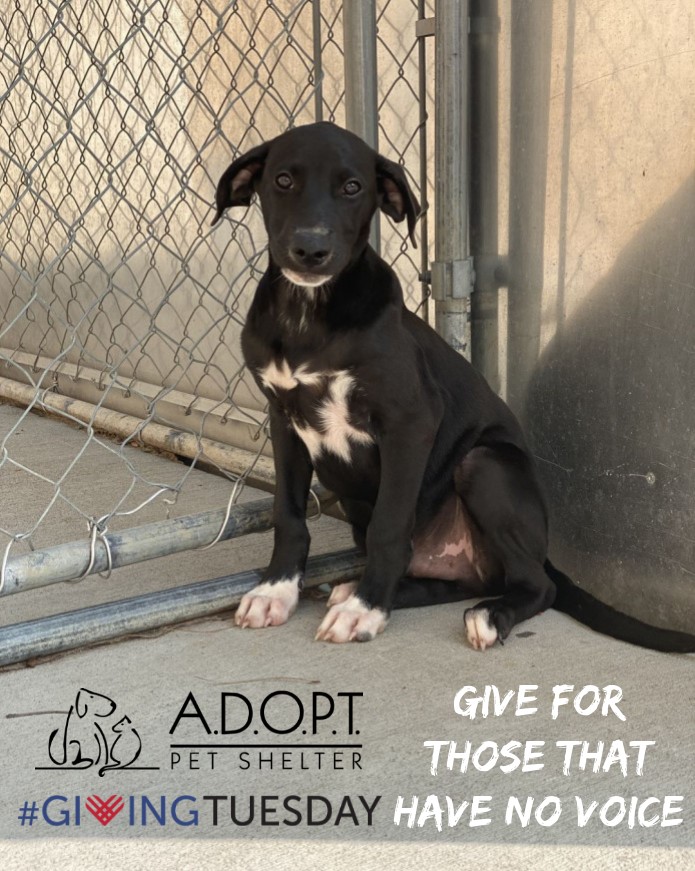 How can you get involved?
There are many, many ways to get involved in Giving Tuesday to show your support for A.D.O.P.T. Pet Shelter.  Review the list below to find the best fit for you!
Donate through our Facebook fundraiser that will be posted December 1st on A.D.O.P.T.'s Facebook page 
Donate through our website at donate

Please include "Giving Tuesday" in the special instructions to sellers box

Become a monthly donor at donate
Mail a donation to: A.D.O.P.T. Pet Shelter 420 Industrial Drive Naperville, IL 60563

Please include "Giving Tuesday" on the memo line on your check

Check to see if your employer matches donations

Check with your employer
Check Double the Donation to see if your employer matches from Nov. 24th to Dec. 8th at Double the Donation

Set up your own fundraiser through Facebook or FirstGiving (scroll down for instructions)
Donate items to the shelter through our Amazon wish list 

Or by dropping items from our wish list off at the shelter

Share and/or comment on A.D.O.P.T.'s social media posts
Create your own social media posts and tag A.D.O.P.T. and use #GivingTuesday
Fill out and submit an application to adopt a dog or cat
Give your pet extra love and care on this special day
Instructions to set up a Facebook Fundraiser:
Log in to your Facebook account
Click on "Fundraisers" on the top under the A.D.O.P.T. logo
Click on "Raise Money" on the right, under the "Create a Fundraiser" heading
Set up your fundraiser by following the steps
Share your fundraiser on your Facebook page and other social media to let your family and friends know you are raising funds! Thank you for your support!
Instructions to set up a fundraiser or donate through FirstGiving:
Go to the FirstGiving page by clicking here
Click on "Create Fundraiser"
Choose a quantity of one and click "Continue"
Create an account
Complete the steps to create your fundraiser
Personalize and share your fundraiser with family and friends!  Thank you for your support!
Do not want to create a fundraiser?  Go to the FirstGiving page and click "Donate" to donate directly to the campaign. 
Did you know there is a new tax deduction available?
There is a new tax deduction available for charitable contributions due to the CARES Act.  It allows for a $300 tax deduction without having to itemize your taxes.  We suggest contacting an accountant for more detailed information.
Bill Jacobs auto group has generously offered a $500 donation match for our Giving Tuesday campaign.  If we can raise $500 across all of our fundraising platforms between 7:00am and 12:00pm on Giving Tuesday, December 1st, they will match up to $500!  Will you help us reach our goal?
A message from Bill Jacobs: Bill Jacobs auto group proudly supports A.D.O.P.T Pet Shelter. We love animals and to support local organizations that provide care for our four-legged friends. We know our support goes a long way in helping to offset the medical and cost of care for animals in our community who need the most love right now.
Bill Jacobs auto group is a friendly name you can trust who has been in the automotive business for over 60 years. We appreciate our customers and will work hard to maintain relationships for life.
Visit their website at: https://billjacobs.com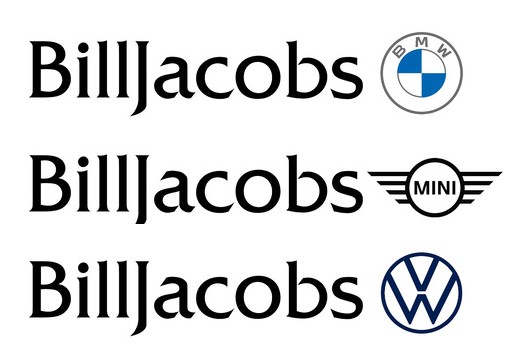 The animals being cared for by A.D.O.P.T. Pet Shelter depend on the community to be able to receive the everyday and medical care needed while waiting for their forever homes.  At A.D.O.P.T., we are truly grateful for the strong community of supporters that have taken us and our animals into their hearts.  Our most sincere thanks for taking the time to learn more about our programs and the animals and community we serve.