A.D.O.P.T. is very excited to have the opportunity to work with such a diverse, passionate and ambitious group of people who have come together for the betterment of the animals we serve.
Laura Nagelbach, President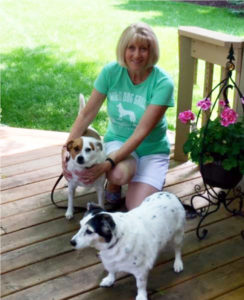 Laura has been the Board of Directors President since November 2020. She is also the chairwoman of the Volunteer Committee.

Laura has been a volunteer at A.D.O.P.T. Pet Shelter since October 2009. She began as a Dog Kennel volunteer and after a year or so, began to train to be an Adoption Counselor. Laura enjoys the role of an Adoption Counselor as she has an opportunity to meet potential adopters and help them in finding the perfect match with one our wonderful dogs. She has also participated in taking our shy dogs to "A Sound Beginning" classes. "It is so rewarding to watch them gain confidence and feel loved and successful during their training." Laura has worked with the Oklahoma transports and brought our newest residents to the Shelter. She has also fostered two dogs, one from Puerto Rico and the second from Oklahoma, Rose, who became a "foster failure" and now makes her home with Laura and her husband Andy.
Since 2008 Laura has worked for Raymond James, a full service brokerage firm. Laura feels there is a direct connection to the way she feels about working for Raymond James and the way she feels volunteering at A.D.O.P.T. At Raymond James we are dedicated to people and their financial well-being. "At A.D.O.P.T. we are dedicated to our animals and their overall well-being. Our communities are very much the same. "
Laura has a Bachelor's of Science in Finance and Economics from Northern Illinois University and a MBA in Finance from DePaul University. Laura and her husband Andy have two adult sons and have lived in Naperville for 20 years. She has two much-loved A.D.O.P.T. alumni dogs, Sophie age 12 and Rose age 2. She is a long-time member of 100 Women Who Care Naperville.
Lisa Paschal-Alcorn, Vice President
Lisa joined the A.D.O.P.T. Board of Directors in May 2018 and serves as Vice President as of November 2020. She works as Senior Vice President and Chief Human Resources Officer for Ryan Specialty Group where she is responsible for human capital strategy for RSG's global business, encompassing 70 offices around the world. Lisa began her career in human resources in the retail industry before returning to law school at South Texas College of Law in Houston, Texas. Upon earning her Juris Doctorate, she practiced employment and family law in Houston before returning to the corporate world managing employee relations for Hess Oil. Lisa earned both her Bachelor and Masters degrees from the University of Missouri – Columbia.
Lisa, and her husband John, are lifelong animal lovers and currently have two Goldendoodles, Haylee and Huntlee, who were adopted as rescues. Haylee, their first rescue is an A.D.O.P.T. alumna who joined the family in 2008, followed shortly by the addition of Huntlee in 2010. Lisa and Huntlee are volunteers in the Animal Assisted Therapy program visiting patients at Edward Hospital. Animals have always been an important part of Lisa's life and she considers it an honor to work with the talented group of board members, volunteers and staff at A.D.O.P.T.
Mary Kay "Kay" Slocumb, Treasurer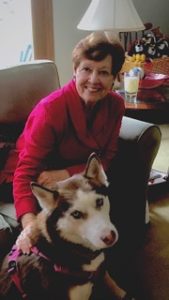 Kay joined the Board of A.D.O.P.T. in August 2019, and became Treasurer and chairman of the Finance Committee in November 2020.
Kay, and her late husband Frank, moved to Naperville in 1993. During their time in Naperville, they reached out to A.D.O.P.T. to find feline friends three different times.  Last year, after being pet-less for two years, Kay began fostering for A.D.O.P.T., taking in kittens and adult cats.
After retiring as Legal Administrator for a 77 attorney law firm in Chicago, Kay has spent time as a community volunteer serving as President of the Oak Park-River Forest Community Chest, and on the Boards of the Naper Settlement, Naperville Heritage Society, Indian Prairie District 204 Educational Foundation, Naperville United Way and United Way of Suburban Chicago.  She currently volunteers as an income tax preparer for the VITA program sponsored by the IRS and AARP.
Kay has an undergraduate degree in zoology and chemistry from Indiana University that brought her to Northwestern Medical Center in Chicago to work in research.  She later added an MBA from Northwestern University Kellogg Graduate School of Management in finance and marketing.
In March 2020, Kay was asked by A.D.O.P.T. to foster a ten year old feline named Kayla, who was at the shelter. Kay said, "Kayla has become a wonderful pandemic companion as we hunkered down together. Now I have become her forever home. This is just one more story of the wonderful work being done at A.D.O.P.T."
Kathy Svac, Secretary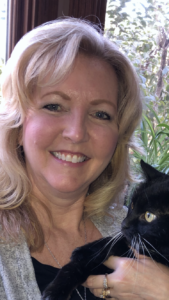 Kathy joined the Board of Directors in 2020 and is currently serving as Secretary. She has been a volunteer at A.D.O.P.T. since January 2009. She began as a cat care volunteer and eventually trained as a cat adoption counselor. Kathy loves working directly with the animals and gives special attention to the ones that are more difficult to adopt. Nothing is more gratifying to her than placing a cat into a loving forever home.
"My role as adoption counselor has been very rewarding. It is such a heartwarming experience to see frightened, sometimes unkempt animals come into the shelter and with loving care they blossom into wonderful pets that ultimately find a forever home. I admit that I have shed a happy tear or two when one of my favorites has walked out the door."
Kathy has also been a member of the Fundraising Committee for several years. She is active in planning and running the events along with raising funds to support the shelter.
Robert Morris University in Pittsburgh, Pennsylvania is where Kathy earned her Bachelor of Science degree in Business Information Systems. She and her husband Michael have been residing in Naperville for the past 20 years where they raised their three sons. They have one very spoiled cat, Sydney, a gorgeous tuxedo gal that reminds them every day how much love a pet can bring to a home. They have also fostered a few cats for A.D.O.P.T. over the years.
Kathy shares A.D.O.P.T.'s unwavering compassion for the pets in their care and fully supports their mission.
Amy Wolf, Director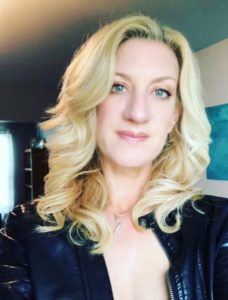 Amy has been on the Board of Directors since June of 2016. She is also the chairwoman of the Social Media Committee. Since joining the board she has worked to improve the standing of the shelter in the community, improve board policies and procedures, and increase the presence of the shelter on social media.

Amy works as an IT Analyst at ULTA Beauty and has a background in training and instructional design. She is a proud cat mom of three – including one A.D.O.P.T. alumni.

Amy first started working as a volunteer on the cat side at A.D.O.P.T. in June, 2008. The thing that always amazes her is the unconditional love from the animals. They can come from difficult circumstances, but they are so open to affection when you meet them. All they want is love. There's nothing like sitting down in one of the cat rooms and suddenly having several cats on your lap wanting attention.

Amy is drawn to the animals with special needs. This could be the more timid animals that need more work to draw them out, ones with health issues or deformities, or older animals. She loves to see how the animals' lives improve with the care and attention given them at the shelter.
Amy's favorite program at the shelter is the Blessed Bonds program. It is heartbreaking to see people in circumstances that make them unable to take care of their beloved animals. To be able to care for these animals at the shelter until the owners can care for them again is so important for these animals and their owners who love them.

Amy is always impressed with and humbled by the dedication of the other volunteers, board members, and the staff. It is truly the people at A.D.O.P.T. that make all of the difference.
Joe McElroy, Director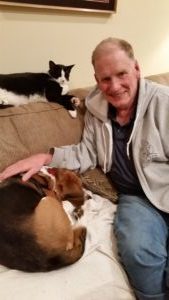 Joe joined the Board of Directors in May 2018, not long after he and his wife, Kay, adopted a dog from A.D.O.P.T.  He had never had a dog before, growing up with cats.
Joe currently is the principal at McElroy Associates in Naperville, a consulting firm specializing in public policy, community planning and marketing communications.
Joe and his wife have lived in Naperville for 34 years.  They have three children.  They also have a cat named Coltrane and a beagle named Baxter, who came from A.D.O.P.T.
He has a Master of Arts in Social Sciences from the University of Chicago, a Master of Urban Planning from Michigan State University, and a Bachelor of Science in English from Illinois State University.
Other Achievements/Affiliations:
Naperville Preservation Inc., currently secretary. This is the group that helped save Old Nichols Library and the Kriehler Mansion.
Naperville City Councilman, 2011-2015
Naperville Responds for Veterans, elected to Board of Directors, 2016
University of Chicago Placement Services, evaluator, Metcalf Fellows Program
City of Naperville Plan Commission, 2003-2009, Vice Chairmen, 2006-2009
Volunteer, Recording for the Blind, 2004-2010
June Courtney, Director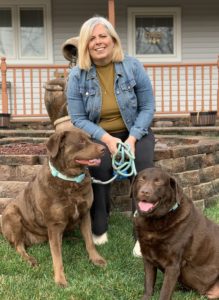 June joined the Board of Directors in 2020.  A lisle resident for 32 years, her and her husband Tim, of 37 years, have three children, one foster son, two grandsons, and two dogs.  Her immediate family actually has eight dogs!  She grew up in unincorporated Hinsdale on a farm and horseback riding school.  She is a loyal friend and lover of all living creatures — except skunks!
A graduate of University of Illinois, she retired after nearly 40 years in commercial banking, most recently as the Executive Relationship Vice President of Commercial Banking for Huntington National Bank.  In 2018 and 2019, Crain's Chicago Business named her one of the most influential and notable women in commercial banking.  Also, in 2018 she received the Adade Wheeler award from College of DuPage.
Deeply devoted to serving nonprofits, June has served as a board member for eight years and as part of the Executive Committee as Development Chair for the last six of those eight years for YWCA Metropolitan Chicago.  She is dedicated to the mission to eliminate racism and empower women.  June has helped in the successful turnaround of the organization after a transition in senior management and the CEO.  Revenues increased from $10 million to $25 million.
June is also a member of the LPGA Amateur Golf Association since 2012, a board member since 2016, and President for the past two years.  Responsible for over 300 members, 25 leagues, and 9 events per year, she has raised approximately $90,000 in cash and in-kind donations over the last 4 years.
She was also a past Treasurer, 2009-2011, of Naperville Country Club and a former Finance and Golf Committee member for Blessings in a Backpack.
Janet Trowbridge, Director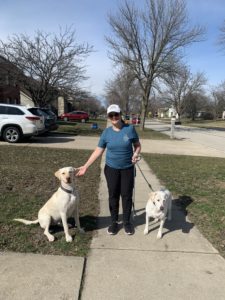 Janet joined the Board in September 2020. Janet and her husband are long-time residents of Naperville where they raised their two children. They have resided in Naperville and Lisle for over 31 years.
Janet and her family are passionate about helping save pets. They have fostered dogs and cats for many rescue organizations in Northern Illinois for more than 25 years. Both Janet and her daughter have volunteered in various capacities at A.D.O.P.T. including fostering.  She and her family have also adopted several dogs from A.D.O.P.T. They currently have two dogs and one cat, who is the "queen of the castle".
Janet earned her B.A. in Political Science from Northwestern University, a M.A. in Writing from DePaul University, and a M.S. in Zoology from Miami of Ohio. Janet retired from a career as a policy analyst in government after 32 years and now teaches at a local community college.
Janet has been active in the community and served a term on the Naperville Plan Commission. Additionally, she was involved in the PTA and served as a board member of the Waubonsie Boys Lacrosse Team and Families Helping Families, a transitional housing program in DuPage County. Through her various volunteer positions, she has gained experience in fundraising and event organization.
Chris Stirn, Executive DIrector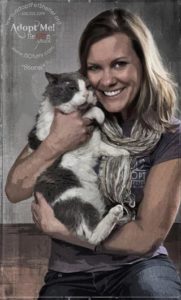 Chris started working for A.D.O.P.T. back in 2009 when she was brought on as A.D.O.P.T.'s Veterinary Technician and then proceeded to become the Medical Services Coordinator overseeing the medical department and low cost spay/ neuter program.  She was instrumental in the development of A.D.O.P.T's Low Cost Vaccine Clinic and Compassionate Programs.  After some time with A.D.O.P.T. Chris was promoted to Director of Operations overseeing shelter operations and programing. She was then promoted to the shelter's Executive Director in 2014.  Chris has always had a strong passion for animals and has served on the Illinois Animal Welfare Federation Board of Directors and has been involved in animal welfare for close to 30 years working primarily in the veterinary specter and then moving to animal control where she worked as an Animal Control Officer and Humane Education Officer and finally animal sheltering where she has found her true calling and strives to improve the quality of life for all homeless animals.  Chris lives in the Western Suburbs and enjoys spending time with her family and is the proud mother of 4 children and two rescue babies Charlie an Old English Bulldog and Maximus the wide eyed cat.
Andrea Stauffenburg, DVM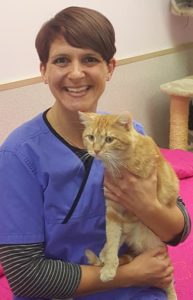 Dr. Stauffenburg graduated from the Iowa State University in 2008 and has practiced small animal medicine in many capacities ranging from high volume to family medicine with a special interest in surgery.
Dr. Stauffenburg's provides spay/neuter services for animals in our care as well as for local rescue groups through A.D.O.P.T.'s spay/neuter clinic.
Dr. Stauffenburg is married with 2 children and 1 rescue kitty adopt from A.D.O.P.T.. During her free time she enjoys outdoor activities with her family.
Liz Bierman, Shelter Manager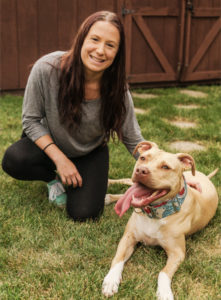 Liz joined the A.D.O.P.T. Pet Shelter team in August 2016 as Kennel Manager and Trainer.  Liz comes from a wide array of animal background.  She has worked at a couple other shelters before here as well as a veterinary clinic.  She loves working here because she knows all the animals receive amazing care and find the best homes!
Liz's main responsibilities for the kennel are to maintain the animals in the kennel and make sure everything stays organized and clean.  The kennel staff is crucial to the animals here at the shelter as they do a wonderful job keeping the animals clean, happy, and healthy!  Liz is in charge of dog intake and managing adoptions along with keeping the Facebook page organized and up to date.  As a trainer, Liz performs the behavior evaluations on all the dogs and teaches classes to shelter volunteers on how to work with and manage various types of dogs.  Special focus is given to both dogs and cats that are assessed to need extra attention with regard to their behavior training.  On-going training and one-on-one interaction is provided to help the dog or cat become a great family pet.  
Liz attended the University of Illinois and graduated with a Bachelor's in Animal Science.  While in school, she learned genetics, biology, nutrition, and animal welfare.  She worked hands-on with many different animals and maintained an internship with the humane society where she learned her animal behavior and training background.  She volunteered at many different training facilities, assisting in dog training classes.  She's picked up medical skills too while working at A.D.O.P.T. and helping with the low cost clinic.  Her 2 "babies" are both rescue dogs that are the joys of her life and spoiled rotten!