1/23 Paint Your Pet!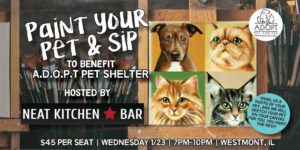 Wednesday, Jan 23rd, 7pm-10pm, Neat Kitchen+Bar, 246 N Cass Avenue, Westmont.
Trina Mae Studio LLC is holding a fundraising event for A.D.O.P.T.!  You  have the opportunity to make an amazing painting for your furry friend while enjoying food, drinks, and some great company.  Attendees email a photo of their pet prior to the event, then when you show up, you have a custom canvas with your pet sketched out.  Painting experts will then guide attendees in how to make a marvelous painting of their pet.  No prior painting experience needed!
In addition to having a great time, your attendance will help raise money for A.D.O.P.T. Pet Shelter!  A portion of the event proceeds will be donated and go directly to the care of our animals.  Check out the link below for tickets.
Link to tickets: https://www.paintyourpetandsip.com/events/paint-your-pet-sip-to-benefit-a-d-o-p-t-pet-shelter?fbclid=IwAR1S6excwyxgDCPABCd7JlFZEaXvODyDSRDFKFSg86nwRokPzS1S0xNIZkw