12/8 Holiday Cookie Walk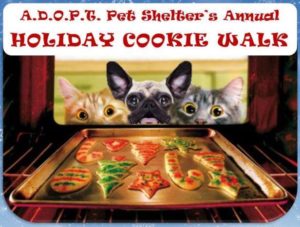 Saturday Dec 8th, 9:00am – 1:00pm at A.D.O.P.T. Pet Shelter, 420 Industrial Dr., Naperville.  Our volunteers have done the baking for you this holiday season! Create your own unique assortment from the delicious cookies, bars, candies, breads, and other goodies we have for sale!
All proceeds benefit the animals cared for by A.D.O.P.T. Pet Shelter.